May 26-29 (Memorial Day Weekend)
Bus Benefit
presented by: Buses by the Beach
at Camp Blodgett in West Olive, MI
» Get Tickets & Full Details
» Visit the FB Event Page
» Google Map to Camp Blodgett
Join us for rustic wooded camping, live music, huge raffle and silent auction of VW-related items, great family fun activities like rock painting, tie-dying,* hula hoop making, hooping skill workshop and community breakfast Monday morning. Enjoy sandy Lake Michigan beaches and crystal clear blue water, nature trails in the woods, miles of paved bike trails, and the company of hundreds of your best friends… while supporting a great cause! All VWs and VW lovers are welcome, bus not required.
*Due to popular demand tie-dye will be limited to items purchased from the Buses By the Beach merchandise booth. Thank you for understanding.
The Bus Benefit 2017 Music Lineup:
Friday
The Waverly's
Nicholas James and the Bandwagon
Saturday
Barbarossa Brothers
Fauxgrass
Melophobix
Sunday
The Bootstrap Boys
Roosevelt Diggs
The Giving Tree Band
Woods Stage – Acoustic Performances
(Saturday Afternoon)
Sam N' Eye
Loren Johnson
Sydney Burnham
Usually held in late September
Bus Boo!!!
presented by: Buses by the Beach
Details to come.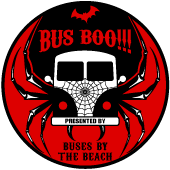 Usually held in late February
Bus BRRR!
presented by: Buses by the Beach
Details to come.